Napa Valley is more than just great tasting wines – its history has roots as deep as those of the Cabernet vines region. In downtown Napa, Queen Anne mansions and 19th-century architecture still populate the riverfront, though new restaurants, tasting rooms, and hotels are transforming this town into a cool walkable hub. Here are the top spots to explore in Napa, California.
Downtown Napa Art Walk
There are tons going on for art enthusiasts all over the city. In the downtown area, there's something called the Downtown Art Walk which has exhibits that change every two years. If you get outside of the city, there's an awesome art gallery by an artist known as Gordon Huether. He makes large installation pieces that you have seen all over the United States and it's an awesome place to go explore and see some of his pieces.
Westwood Hills Park
Another fun thing to do in Napa is to get out and do a little hiking in the city. Westwood Hills Park is on the west side of the city and has a few small trails that leave two beautiful vistas. It is smart to hike here in the morning when it's less busy and easier to park and you can get some of that nice cool Napa weather.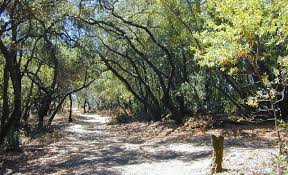 Bike Downtown Napa
In Napa, there's an area known as the River Walk. It's a great place to rent some bicycles and just get out and ride along the river. You can actually ride all the way up to see some wineries and vineyards or you can just ride along the river at a leisurely pace. Take it all in and just enjoy a nice morning in the city.
Oxbow Public Market
Oxbow public market is like a collection of pop-up restaurants in one large building with things ranging from oysters and donuts to Mexican food and shopping. It also has the second location to some of the Napa Valley's best food spots like the Model Bakery where you can get an English muffin or Gots Roadside where you can get some good sandwiches and French fries. Bring your appetite though because Oxbow always has a ton of things that you will want to indulge in.
Annette's Chocolates
Annette's Chocolates is in downtown right next to the Archer Hotel. This chocolate shop has a ton of stuff to pick from; from truffles to the chocolate sauce but you can also do the chocolate tasting. Make sure you have a group of a few people and you set this up in advance. You can also go into the back of the shop, learn about how chocolates are made and try many types of chocolate from all over the world.
Grape Crusher Statue
The Grape Crusher Statue is a symbol of the Napa Valley. This statue is right along the highway but we recommend you go at sunset as the sun setting behind the statue provides an amazing place for photography or just to sit on the bench and enjoy. You can visit the Grape Crusher Statue any time but sunsets are highly recommended.
Bowling at Crush
In the Meritage Hotel, they have a bar known as crush which has three to four bowling alleys and it's an awesome place to spend an exciting evening in the city. We recommend reserving a bowling alley in advance. When you get there, have a few drinks maybe a few appetizers and just enjoy bowling under the neon lights.
9/11 Memorial
It's a beautiful memorial dedicated to those that lost their lives in the tragedy. Gordon Huether created the memorial, and it's right in the downtown heart of Napa, so be sure to check it out.